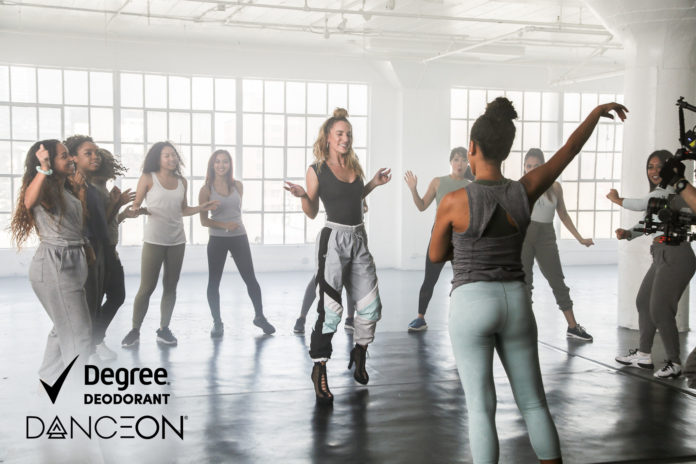 Degree® partners with leading dance entertainment network for in-person and virtual classes taught by today's top dance professionals
Dancing is an age-old activity that has never been more exciting and varied than it is today. Now, with inspiration available 24-7 at the touch of a button, more and more people are turning to dance as a way to stay active and feel good. In fact, the Google search phrase "dance classes near me" has increased 50% over the past year alone.*
That's why Degree® – the first deodorant activated by movement – is joining forces with DanceOn – the leading dance entertainment network – to help inspire people to dance more in the name of improved health and wellness.
This partnership will bring together a team of today's top, most click-worthy dance professionals across genres – ultimately providing access to their expertise through in-person and virtual classes, plus exclusive online and social media content.
Leading dance talent including Alison Stroming, Nicole Kirkland, Tricia Miranda and Jessica Bass James will make Degree® the first step in prepping for their routines. Since the brand's MotionSense®technology gives users ultimate freshness with every move and provides 48-hour odor and wetness protection, it's the ideal product to sweat-proof dancers of all levels – whether the stage is a studio or living room.
"Degree® has long been a proponent of moving more, and dance is such a great way to stay active since it's fun, has a built-in social element and can be sustained over time," says Dawn Hedgepeth, General Manager and Vice President of Unilever Deodorants, Men's Grooming and Hand & Body Lotion. "Our partnership with DanceOn is designed to encourage everyone to experience the multiple benefits – both physical and emotional – that come with dancing."
"Like Degree®, our company understands the value of movement in one's everyday life," adds DanceOn Co-Founder and CEO Amanda Taylor. "Our community of dancers, choreographers and fans never stop moving and benefit from a product like Degree® that works as hard as they do." Taylor continues, "We're excited to partner with Degree® in our collective mission to share movement inspiration with the world."
Dance All Day Events
Degree® and DanceOn will bring live classes to movement-seekers in New York City and Los Angeles. From hip-hop and heels to ballet and more, everyone is invited to sign up for the free pop-up dance class style that moves them most. Plus, everyone that comes out will receive a complimentary** Degree® Dry Spray Antiperspirant Deodorant so they can keep dancing without the sweaty side effects.
Here's how to join***:
New York City

, 

Oct. 16

th at Broadway Dance Center: Join DanceOn instructors, including 

Alison Stroming

 and 

Nicole Kirkland

. Visit here for more information and to sign up.
Los Angeles

, 

Oct. 23

rd at Playground LA: Join DanceOn instructors, including 

Tricia Miranda

 and 

Jessica Bass James

. Visit here for more information and to sign up.
Virtual Classes and the Ultimate Dance Getaway Experience
Not in New York City or Los Angeles? No problem! Stay tuned for four exclusive dance videos taught by Alison, Nicole, Tricia and Jessica coming soon to DanceOn's YouTube Channel. Plus, follow along on social media to learn more about how to enter the ultimate dance experience sweepstakes.
Meet the Degree® + DanceOn Team
Alison Stroming

, Ballet –  Born in 

Brazil

 and raised in 

New York City

, Alison started her formal training at the age of nine and her professional ballet career at the age of 17 with the Alberta Ballet in 

Canada

. She travels the world performing in high-profile events and serves as a mentor to young dancers.
Nicole Kirkland

, Heels – Nicole has been teaching dance since the age of 16. She choreographs and collaborates with the music and entertainment industry's top talent and leads workshops around the world.
Tricia Miranda

, Hip-Hop – Born in 

Arizona

, Tricia broke into the 

Los Angeles

 dance scene in 2001 and has since danced and choreographed for today's top industry music artists and entertainment shows. She shares her moves with millions via her social media channels.
Jessica Bass James

, Dance Fitness – With dance running in her family, Jessica combined her love for dance and fitness to create Dance2Fit, a program that leads millions to be mentally and physically healthier.
Connect with Degree® and DanceOn
Join us in dancing more to live more with #DanceMoreLiveMore
DegreeDeodorant.com
https://www.facebook.com/DegreeWomenUS
@DegreeWomen (Instagram & Twitter)
https://www.danceon.com/
https://www.facebook.com/danceonnetwork
@DanceOn (Instagram, Twitter & Snapchat)
https://www.youtube.com/user/DanceOn
About Unilever United States, Inc.
Unilever is one of the world's leading suppliers of Personal Care, Food & Refreshment and Home Care products with sales in over 190 countries and reaching 2.5 billion consumers a day. In the United States, the portfolio includes brand icons such as Axe, Ben & Jerry's, Breyers, Caress, Country Crock, Degree, Dollar Shave Club, Dove, Good Humor, Hellmann's, I Can't Believe It's Not Butter!, Klondike, Knorr, Lever 2000, Lipton, Love Beauty and Planet, Magnum, Nexxus, Noxzema, Pond's, Popsicle, Promise, Pure Leaf, Q-tips, Schmidt's Naturals, Seventh Generation, Simple, Sir Kensington's, St. Ives, Suave, Sundial Brands, Talenti Gelato & Sorbetto, TAZO, TIGI, TONI&GUY, TRESemmé and Vaseline. All of the preceding brand names are trademarks or registered trademarks of the Unilever Group of Companies.
Unilever employs approximately 8,000 people in the United States – generating more than $9 billion in sales in 2017.
Unilever's Sustainable Living Plan underpins the company's strategy and commits to:
Helping more than a billion people take action to improve their health and well-being by 2020.
Halving the environmental impact of our products by 2030.
Enhancing the livelihoods of millions of people by 2020.
The USLP creates value by driving growth and trust, eliminating costs and reducing risks. Globally, the company's sustainable living brands are growing 50% faster than the rest of the business and delivered more than 60% of the company's growth in 2016.
For more information on Unilever U.S., its brands visit and the USLP visit: www.unileverusa.com
To connect with Unilever U.S. via Facebook visit: www.facebook.com/unileverusa
To connect with Unilever U.S. via Twitter follow: @unileverusa
About DanceOn
DanceOn is the leading music entertainment brand for millennial and gen z women. With its massive community of 100+ million fans globally, DanceOn's social-first video programming has established major influence on trends in music, digital video, and top 40 hits. The company was co-founded by Madonna, CEO Amanda Taylor, Guy Oseary and Allen DeBevoise. DanceOn is available across digital platforms including YouTube, Facebook, Instagram and more. For more information, visit www.danceon.com.