In advance of Veterans Day, the Department of Veterans Affairs (VA), in partnership with Johnson & Johnson, today announced a new public service announcement, "No Veteran Left Behind," to address the tragic rate of Veteran suicides.
According to the Centers for Disease Control and Prevention (CDC), suicide has become one of the leading causes of death in America. Suicide is also a major concern among Veterans and service members.  In the U.S., an average of 20 Veterans a day die from suicide.  Suicide is preventable through connectivity and community support, so generating awareness of the health issues that disproportionately affect Veterans and service members is a critical first step and requires a comprehensive approach.
Johnson and Johnson is driving the effort to work with the Department of Veterans Affairs.  For a video, see here:  https://www.multivu.com/players/English/8209451-jnj-be-there-for-veterans/   To help mobilize the nation, a new video narrated by actor and filmmaker Tom Hanks will urgently call on the public to take notice and action by reaching out to a Veteran who may be in crisis.
"To address the issue of Veteran suicide, we must band together to create networks of support for the Veterans in our communities," said Dr. David J. Shulkin, Secretary of the Department of Veterans Affairs. "That is why we have partnered with Johnson & Johnson and other organizations to encourage Veterans, service members and their loved ones to seek out available mental health resources."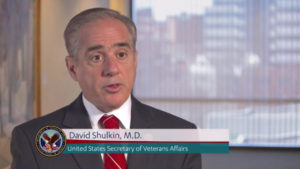 "We believe in the power of the community to actively engage with the men and women who have bravely served our country, so we can make a real difference in the lives of anyone who is in crisis or going through a difficult time," said Alex Gorsky, Chairman and CEO of Johnson & Johnson.
The public service announcement will be broadcast nationally in October and efforts will continue through Veterans Day and after. VA and its partners encourage the public to join the conversation by using #BeThere on social media, and by visiting www.BeThereforVeterans.com for more information on how to reach out and be there for the Veterans and service members in their communities.  VA will continue to work with its partners through the end of the year and into 2018 to raise awareness and empower the community to support Veterans and service members.
For more information on supporting Veterans, see:
Veterans and service members in crisis, or concerned family or friends, can call the Veterans Crisis Line for confidential support 24 hours a day, seven days a week, 365 days a year at 800-273-8255 and press 1, chat online at VeteransCrisisLine.net/Chat, or text to 838255.
View original content:http://www.prnewswire.com/news-releases/new-va-and-johnson–johnson-campaign-encourages-public-to-take-note-of-veterans-at-risk-for-suicide-300545183.html
SOURCE Johnson & Johnson
CONTACT: Department of Veterans Affairs, VAPublicAffairs@va.gov; Johnson & Johnson, Lauren Wilson, Lauren.Wilson@zenogroup.com, (973) 349 7594
RELATED LINKS
http://www.jnj.com