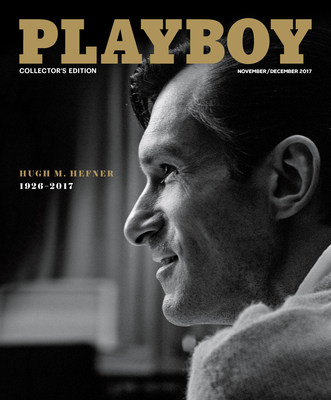 Playboy's November/December 2017 Collector's Edition
Two days before Playboy's November/December 2017 issue was going to press, the world learned about the passing of Hugh M. Hefner on September 27, 2017.   Adorning the cover is an image of Hugh M. Hefner, photographed by Larry Gordon in 1965.  It's an image that reflects the publisher's original vision of himself as opposed to the recent reality of a frail man cavorting with women nearly a quarter of his own age.  A nice touch on saying goodbye to a man who definitely made his mark on changing how we see the world.
In the days following his passing, scores of women denounced his role in objectifying women and now, coupled with recent events on the pervasiveness of sexual harassment in the media, this new issue is bound to strike a new discourse on sexuality in America with the magazine's first Transgender playmate.
The first six pages of the November/December 2017 issue are a celebration of Mr. Hefner's life and is a prelude to a forthcoming 100+ page special tribute dedicated to the man who changed the world – for better or worse, with his magazine and company.  The magazine also provides a diverse, exclusively American-made Holiday Gift Guide, Playboy Interview with Chelsea Handler, exclusive Bettie Page comic, 20Q with James Corden, and in-depth journalism on Uganda's LGBTQ community and Estonia's ambitious leadership in technology, Playboy's November/December 2017 issue closes out a tumultuous year in the publication's history.   Additional highlights of the November/December 2017 issue of Playboy magazine also include:
November Playmate: Parisian high-fashion model

Ines Rau

returns to the pages of the magazine (previously featured in Playboy's

May 2014

A-Z issue) and makes history as Playboy's first transgender Playmate with a pictorial and centerfold, photographed by

Derek Kettela

.  It would be very interesting to know the editorial dynamics on this decision and the timing of this release with Hefner's passing.  Historically, Playboy has never been afraid to take on controversial topics so this issue may be Hef's final shock treatment. For more on Ines Rau, an article in Vogue https://www.vogue.com/article/ines-rau-transgender-visibility-in-fashion discusses her view's.
December Playmate: former beauty queen and now Playboy's

December 2017

Playmate,

Allie Leggett

is a force of nature with a sultry 11-page pictorial and centerfold, shot by

Ali Mitton

.
The Playboy Philosophy: in the third installment of this modern update,

Cooper Hefner

encourages discussion surrounding conservation and environmentalism.
Exclusive to Playboy: Dynamite shares a chapter from The Secret Diary of

Bettie Page

comic, written by

David Avallone

.
Art: Shepard Fairey offers a sneak preview of his new solo show, Damaged.
Fiction: two installments featuring Under the Clock by

Robert Coover

and Artemis by

Andy Weir

.
Playboy's November/December 2017 issue is now available for download at Playboy.com and on newsstands nationwide on October 31, 2017.  Rehabmag.com is predicting that this will be a highly discussed issue in the months to come.